There are many things to give thanks for this year.
Everyday in fact, gives a reason to be thankful,
even though we ourselves may not see it.
This year I am thankful once again for my son.
My son was diagnosed with leukemia in May of '94,
and while he is still struggling with health issues,
he is in relatively good health.
I am thankful for a husband who supports me
and cares for me in little ways.
I am thankful for my other two children who are growing up so fast
and are a source of joy to me, even as we struggle with teenage issues and troubles.
I am thankful for the loving support of my family.
I am thankful for the compassion of my church family.
They have been so wonderful
and have been a prime example of Jesus' love.
I am thankful for my Saviour who has
given me the strength to deal with life in general.
But I think of those less fortunate, who are struggling with war,
starvation, loss, and so much more
that we cannot even fathom in our rich society.
Heavenly Father, bring them peace and comfort somehow.
Bring people to those who are helpless
and give them compassion to help our brothers and sisters in need.
But most of all, I am thankful to God
for sending His Son for me,
so I could have eternal life.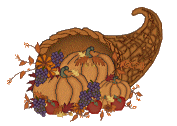 I love this time of year. It is so colorful, and the weather is so unusually warm. Farmers bringing in the harvest, so there is such a bounty vegetables and fruit. So much to be thankful for.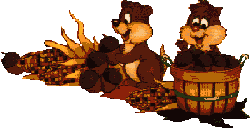 Praise God for all His indescribable gifts! He has given us all so much, how can we even begin to thank Him for everything? Well for one, we can give Him a gift back. We can?? Well sure! All He asks, is for us to give Him our lives, so we can live eternally with Him. Wow. And you thought you had something to be thankful for before?? Instead of living in an eternity with pain and suffering and unbearable separation from God, we can live eternally and give praise with the angels. But you have to acknowledge God and invite him into your heart before you can have eternal life with Him. Knowing about Him, and saying you believe in angels or "a" God, and that we all serve the same God but in different ways just won't cut it. You have to have a living, personal relationship with His Son, Jesus Christ. Then you can begin to know peace in your life. Then you can know a joy beyond any joy you know now. Then you can say with a grateful heart, "Thanks be to God for all His indescribable gifts". Selah.
If you would like to know how to have this loving, caring, eternal relationship, please go to one of these sites. They can help you with this decision. God bless you!

Thanksgiving is the gathering of family and the laughter and joy that makes it a day for us to be thankful. So this year I wish you blessings of family, of laughter, of taking each day to find something small to be thankful for.
I pray your Thanksgiving is indeed blessed this year.

Come, let us sing for joy to the Lord;
let us shout aloud to the Rock of our salvation.
Let us come before Him with thanksgiving
and extol Him with music and with song.
-Psalm 95:1-2
Enter His gates with thanksgiving
and His courts with praise;
give thanks to Him and praise His name.
For the Lord is good, and His love endures forever;
His faithfulness continues through all generations.
- Psalm 100:4-5
Rejoice always,
pray without ceasing,
in everything give thanks;
for this is the will of God in Christ Jesus for you.
-1 Thessalonians 5:16-18
But thanks be to God, who gives us the
victory through our Lord Jesus Christ.
-1 Corinthians 15:57
Psalm 136


All About Thanksgiving
Canadian Thanksgiving