Here are some Christmas sites I like to visit.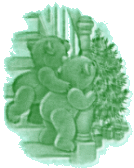 All Things Christmas
Featuring holiday cards, craft projects, decorating ideas, stories, poems, music, lyrics,
recipes, printables, history, traditions, games and more.

A Little Christmas Magic
Embark on a magical journey at our Christmas website for kids.
Includes, coloring, an online puppet show, the Christmas alphabet and more.







© 2001-2006 The Wonder of Christmas