Third Page of Christmas Sets.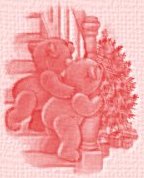 If you do use my graphics, would you consider
e-mailing me
so I can see what you have done?
Also, even if you do not want to link back,
please! DO NOT claim them as your own, as I have worked hard on these.
Thank-you.
Also, if you would like to provide a link back to my site,
that would be nice but it is *not* necessary.
Please use the graphic provided with the sets,
or use the card below with the url. Thank-you.
Please do not use this bear set as it was made from a brush
and made especially for these pages.